Tribby

Sadie
To celebrate our Cara Family Monday in celebration of Pet Memorial Day - Sadie will live forever in our hearts. You were not a patient. You were family. We miss you Sadie <3 - here is what your mom wrote:
I would like to sent a HUGE thank you to Dr. Meena and the wonderful staff at Caradoc Animal Clinic for everything you have done to help our Family through this very difficult year, we are so grateful for everything you do for our furbabies <3
This is my Gorgeous Sadie, she was truly amazing, such an old soul. She had so much love to give and just wanted to please everyone she met.
She taught me so much about love and understanding of our four legged furbabies, I am so blessed to have had her in my life. She was an amazing Mommy to 8 beautiful puppies, which we had the pleasure of raising 2.
This year 2015 has been so difficult with the passing of Sadie's daughter Chloe in April, then just 3 months later July 29, 2015 Sadie crossed over Rainbow Bridge after being diagnosed with lung cancer just a few weeks earlier.
Sadie, words cannot express the gratitude I have for you, for the love you showed and for what you taught me. My heartaches so much and I miss you each and every day. Till we meet again my Sweet Angel <3
Loving and missing you always, Mommy, Daddy, Jayme and Hayley

Chloe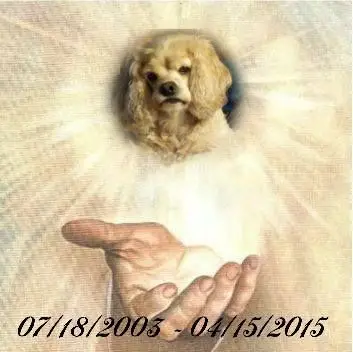 On Cara Family Monday and in celebration of Pet Memorial Day - we honour Chloe, daughter of Saide (Wed 16th post), you will live forever in our hearts. You were not a patient. You were family. We miss you Chloe - here is what your mom remembers heart emoticon
This is my Sweet Chloe, she was such an amazing little girl. You see she was one of our puppies from a litter of 8. We sold her and just before she turned a year old she was hit by a truck. The owners did not want her anymore and were going to put her to sleep. Click Me! (I am just so thankful that in the contract when they purchased, if anything happened to the puppy or if they decided they could not keep them, I was to be contacted) So we took Chloe back and she went through surgery and became such a loving and loyal girl to us.
Her last 5 months with us she became such a mystery, lots of blood work and vet visits with no real answer to what was happening with her (suspicion was cancer). We spent each day loving her and keeping her comfortable feeling blessed for each day she was with us. A HUGE thank you to Dr. Meena for her support and kind ways heart emoticon
The morning of April 15, 2015, my heart broke as I looked into Chloe's eyes and saw that she was leaving us and giving me permission to say our good byes. We sat together all day till her appointment, shed so many tears wishing there was some way she could stay.
Thank you to Dr. Sarah and the staff of CARA for your support through this difficult journey and allowing us the time we needed to be with Chloe as she crossed over Rainbow Bridge.
Till we meet again my sweet Chloe Mommy, Daddy, Jayme and Hayley love and miss you so much.

Cassie

Morgan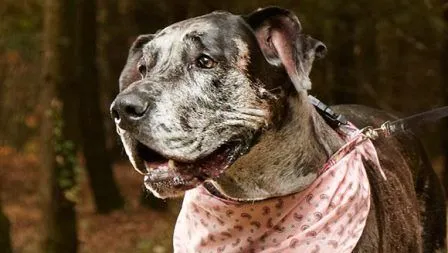 Morgan was part of the Cara family. We are heartbroken to have had to say good-bye to her. We were blessed by the fact that she came to see us on her way to the dog park last week. Morgan has championed so many wonderful causes. She made appearances at fund-raisers, and she brought a new level of awareness to Danes in Distress. Let's continue her amazing work. Visit her Facebook page and see the legacy she has left. Rest well sweet Morgan. In Morgan's words - "have a Dantastic Day everyone."
Click here to read her tribute on the Guinness Book of World Records website

Cassie

Paige Gallant
It is with great sadness that our Cara family joins Paige's family in saying good bye. Paige was truly one of the best. She lived her life to the fullest; did what labs are born and bred to do; brought love and joy to her family; and graced us with her presence. Even in her final hours, Paige remembered others by donating to help the London Humane Society with the hoarded kitties. Meeting Paige meant loving Paige. We are thankful that Paige was part of the Cara family.
If you would like your pet to be remembered in our memorial section, please email us at [email protected]

Townsend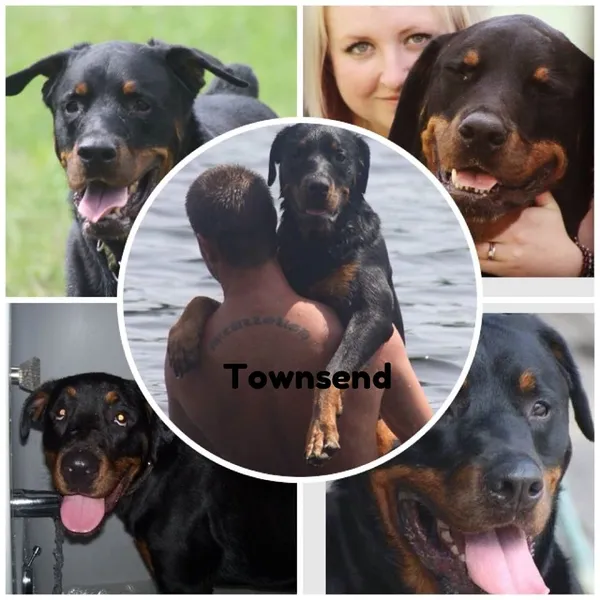 In May, our staff said good-bye to a really great dog. Townsend, aka Bubba, was large, both in size and heart. He is sadly missed by his family and everyone here. His family has graciously decided that they would like to share his story and some photos. Sadly missed but always remembered - Townsend!!

Growing up I never had the chance to own a dog:( I was an animal lover at heart and the moment we put an offer on our first home I already had my first dog picked out. We named him Townsend (named after Townsend Line in Simcoe where we got him... We got lost since there were 10 Townsend lines lol!) We also liked to call our new pup Bubba and he quickly grew to know both names! Bubba was an adorable pup full of energy and mischief. A few month after getting him we thought he needed a pal and we got our black lab pup Bella. Bella and Bubba were inseparable!!! Townsend was a "special dog" with lots of silly quirks:) He chased his shadow daily, knew how to open the fridge (and crisper drawers) as well as all the doors in the house! He was 150 lbs but thought he was he size of a cat most times. When it came to food, he had to have been the pickiest dog ever! His favourite was marble cheese, but, if you ever tried to give him processed cheese, he'd look at you like you were crazy!! He also wouldn't eat anything that touched egg!!! Bubba wasn't a fan of the mail lady either:) Townsend and Bella were very welcoming to the foster dogs we brought into our home! Both of them loved our third foster dog. We adopted her in April of this year. Her name is Beretta. We believe that Beretta came to us for a reason. You see, shortly after adopting Beretta we found out that our precious Bubba was suffering from heart failure. We put him on medication that seemed to make him better and spent the next few weeks having an amazing time with our furbabies and kiddos:) Unfortunately, Townsend took a turn for the worst and after 6 years with my best friend, I had to say goodbye. On May 14, 2014 my best friend crossed the Rainbow Bridge. I miss his smile, his kisses, his greetings at the door with his wiggling stubby tail and having to lock the fridge when we go out. He truly was my best friend and will be forever missed. Bella was heartbroken but with the help of Beretta is doing ok. My children miss him dearly, both of their second words were Bubba. He was their guardian from the moment we brought them home from the hospital, but now I know they have a special guardian angel:) Thank you Caradoc Animal Clinic for all you kindness and support during such a tough time in our lives!
If you would like to share your pet stories, please email us at [email protected]

Splash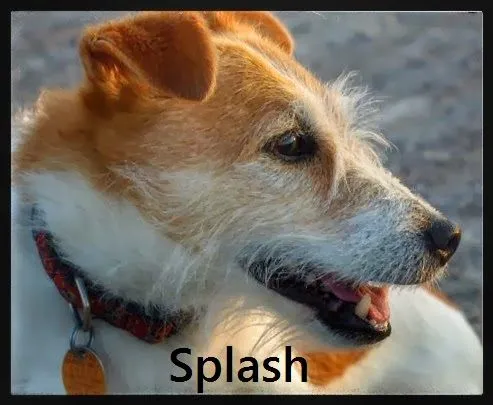 Splash has been a part of our veterinarian, Dr. Sarah Bassett's family for over ten years. She was loved by her family and loved the farm atmosphere. She always found mischievous activities with her Jack Russell partner in crime, Junior. With mom on stand-by for medical emergencies, Splash lived a care-free and joyful live. Rest in peace, Splash, we will miss you dearly.

Angel
Angel came into the Caradoc Animal Clinic and was diagnosed with Hemangiosarcoma, a cancer occurring in the cells lining the blood vessels. This condition does not always come with warning signs and can happen very quickly. Understandably, the diagnosis came as a shock to her family. Our staff here at Caradoc were able to keep Angel comfortable while Dad rushed back from Toronto, so that the family, together, could say good-bye to their beloved Angel. Angel will always be remembered and loved.

Dawg Cushman
Dawg will be missed by his family and Caradoc Animal Clinic. He was very patient with a good spirit. He will always be remembered in our hearts.

Sasha
Sasha was the most amazing companion anybody could ever ask for. She was always happy and greeted you with a wag of a tail and a lick on the face. Sasha loved the beach, swimming in the water and chasing the waves. Squirrels were always a challenge for Sasha, as she chased them over and over; she could almost catch them, but never gave up trying.
On September 22, 2012, after 14.5 years we had to say good-bye to our beloved companion. Sasha, you are missed each and every day and will be forever in our hearts. You touched everybody that ever had the privilege of knowing you.

Tika
Tika was our baby girl, she brought a lot of happiness.On Sept 11 2012, we lost a part of our family. Tika had a great personality, she loved to watch TV- cartoons were her favorite. Tika loved being outside to play with her rocks in the summer,and lay under the trees. Tika will always be apart of our family and forever in our hearts.We miss you dearly.We would like to thank the Caradoc staff for being wonderful through his difficult time.

Noah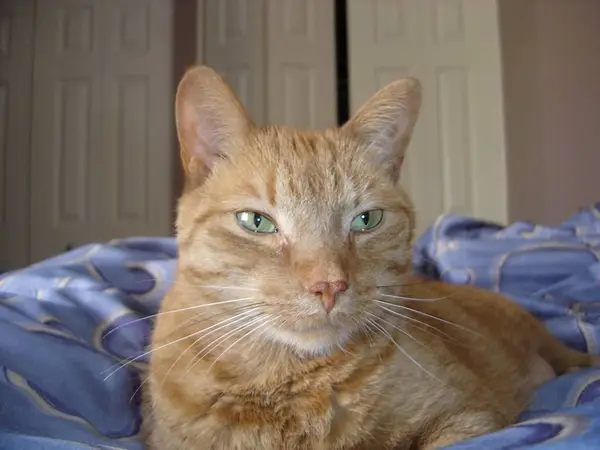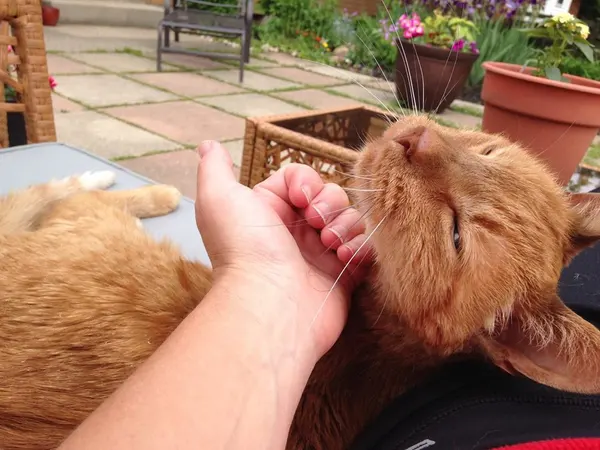 It is with great sadness that we say good-bye to Noah. Charlotte, one of Cara's wonderful techs, tells the story of her beloved Noah. RIP sweet boy.
I have had Noah since he was a little bitty kitten. Noah was a silly kitty who had a squeak instead of a meow. He was always purring, was full of energy, running to the food bowl for his meals, right up until the day he passed away, He loved being outside, watching the birds, and in his earlier years he was quite the hunter. He never strayed away from the yard, and if he was out in the yard with me, he chose to sit on my lounge chair and keep me company. He was a sweet and easygoing boy who took all his illness in stride and was such a happy cat. He suffered with liver problems in his early years and went through exploratories and biopsies and intensive nursing care, each time pulling through. In 2006, he became ill once again, and this time I thought it might be his last time. When the doctor called at 2:30 am from the emergency clinic to tell me it was Diabetes, I have never been so relieved! Noah lived on with Diabetes for another almost 9 years. He remained the most regal, inquisitive and handsome man, right up until his very last day. My life was richer for having him in it, and he will be missed so very much.

Bea Guertin
Bea is the most recent feline friend to pass away and she is missed a lot. Bea had been part of our veterinarian technician Christy's family for 15 years. She was brought into a clinic that Christy worked at when she was about 4/5 months old. She arrived at the clinic in a bird cage with 2 other kittens - Kzin, Christy's other cat, being one of them.

Kzin Guertin
Kzin was Bea's sister and she passed away about 3 years ago. She was the "best cat ever" according to our veterinarian technician Christy's husband who has had cats all his life. She was the friendliest, most complacent and easiest going cat he has ever known. Kzin's name came from a cat like warrior species from Science Fiction author Larry Niven's known space universe.

In memory of Digi, the world's best clinic cat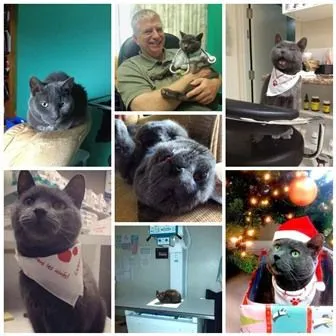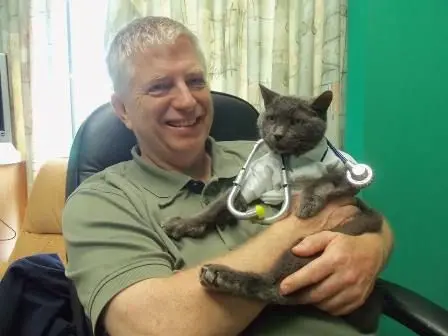 Digi was the best clinic cat EVER!! For almost 17 years he was Dr. Kirby's constant companion, friend, sleep buddy, and truth be told probably confidant. Digi didn't reside at Caradoc as he was part of the Masonville Animal Hospital team before Cara was even opened. He was always in the thick of things, no matter what. Hallowe'en, Christmas, Digi was always ready for a good time. Unfortunately, like all our beloved pets, for us the end came too soon. On Dec. 24th, 2014, we said good-bye to Digi. His facial tumour and chronic kidney disease had taken their toll on his health. As a responsible pet owner, Dr. Kirby knew the time had come to say his farewells to his beloved Digi. Digi was special in ways you couldn't have imagined. He keeps a cherished place in all our hearts. All our love

Max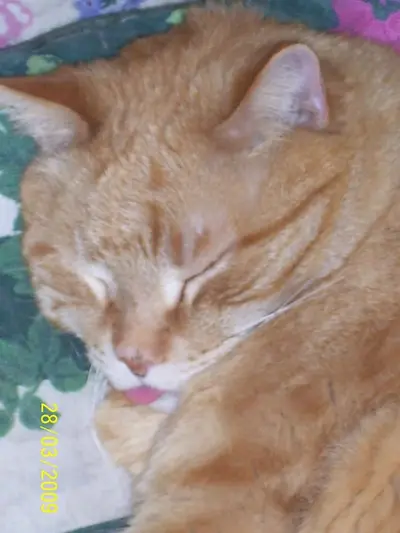 On Cara Family Monday and in continuation of the celebration of Pet Memorial Day - we honour Max, you will live forever in our hearts. You were not a patient. You were family. We miss you Max - here is your story from your mom heart emoticon
I got Max when he was just a little orange kitten from a friend's farm. I had just lost Mini, my orange tabby cat, and missed having an orange kitty around. Max was always quiet and easy going. He was almost always the only male cat in the household and felt that he was the king of the castle. The other cats that came and went through my household just let him believe the house was his castle. Max loved to go outside but he almost always stayed close to home. Just once, for some reason, he tried to cross the road and got hit by a car. I came home from school at lunchtime to hunt for him and found him worse for wear, close to home. I rushed him to the vet and loved and cared for him until he was right as rain, except for a few missing teeth. He had a few illnesses over the years but always got better quickly. In his later years, he loved to lay in the sun and nap. He had his favourite sunny napping spots inside as well as out. Over the years, he gave me many happy moments. In his last few days, his big heart just got tired and worn out. I will miss him terribly but will never forget him. I may get another orange kitty but it will never replace my Max.